Thanks to Jack Kaulfus's
recent flash review
of
Curio
by Lauren Ellen Scott
,
she read
"The Brewsters"
, which is a really smart little thing, a delightful re-languaging romp. What does re-languaging mean? It's a word she just made up as a way to describe what Scott is doing. What Scott is doing is re-languaging. Although Scott is not the first to relanguage, "The Brewsters" is, for our purposes, a very effective example not only because it's well done, but also because it's SO very well done.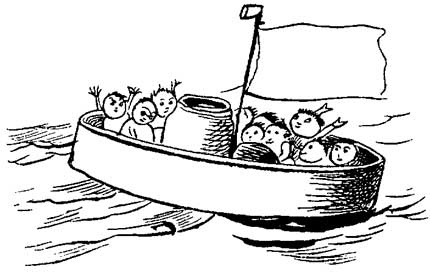 The Jumblies
Edward Lear re-languaged, too. For an example of Lear's re-languaging (or to figure out more how she's defining this new word), read his poem
"The Jumblies"
. She thinks you'll find that Ellen Scott and Lear are linguistic friends. If you enjoy "The Brewsters", then you'll definitely want to read "The Jumblies"--aloud, of course, aloud.
Re-languaging may be a synonym for
Nonsense-verse
, but it should be clear that relanguaging may not be set on a metered line. But! re-languaging, as a descendant of nonsense-verse, requires syncopation.
Re-languaging is to nonsense verse what early jazz was to blues.
Re-languaging may cause whimsy but the whismy may offset, or collide with, the deep questioning of reality or the suggestion that deep questioning is occurring; although, in fact, due to the effects of re-languaging, the presence of deep questioning may be more an aesthetic effect of the collision between language and meaning. The aesthetic effect, however, can cause deep questioning in the reader.
It may be the case that re-languaging is more applicable in its use to fiction. If not, and only if, because poetry has a full dictionary of words to describe itself with, and poetry may not accept fiction that re-languages as a poetic form. It could be argued, and likely someone will (and why not?), that "The Brewsters" is a prose poem and not flash fiction. The argument, if proven valid, may lead to the conclusion that "The Brewsters" is not re-languaging but doing [insert poetry term]. This person who argues to such a conclusion will likely like clam chowder with a sweet potato on the side.
Re-languaging should not be, however, used as a synonym for experimental writing since experimental writing does not imply or guarantee interesting rhythm--although pieces that re-language may be defined as experimental, and the most interesting experimental writing may re-language. See Michael Stewart's
A Brief Encyclopedia of Modern Magic
for an example of this, or Ben Marcus's
The Age of Wire and String
. Susan Steinberg re-languages in many of the stories in
The End of Free Love
, but she is of the held-note variety of re-languagers.
Rain, by Marc Chagall (1911)
(
Held-note relanguaging
: a
distant cousin of Ben Marcus and Ellen Scott, like the compromise between the two, although nothing has been compromised. Style typified by circular, rhythmic language that, as it both circles and progresses, creates a narrative.)
In visual art, re-languaging is closest to this painting by Chagall (when it is worn as a song that sits as a bird on one's heart, clutching):
Perhaps.
!